---





---
P. D. C. --- Where Ideas Become Reality
Over of successful Electronic Engineering
EMAIL OR CALL US NOW!
---
---
Welcome to PDC, an innovator in applying electronic and computer technology to Electronic Products. Through talent, experience, and hard work, we can help you overcome any design or manufacturing hurdle. Our custom R & D solutions enable our customers to achieve fast time-to-market with technically advanced products.
PDC is a small dedicated Engineering firm specializing in Electronic Product Development. We are located in Northern New Jersey and serve the world providing technical design services. If you have an idea for an Electronic or a Computer Product, we can turn your idea into a working model and a successful product.
---
Going well beyond full service to provide "outstanding" levels of personalized service.
Whatever questions you might have concerning the application of electronics to your product or manufacturing process, feel free to contact us. We'll be happy to talk to you. PDC has the capabilities to perform complete project designs, from requirement specifications to prototype development, or to assist at any level in hardware or software design of the development process. A full featured design company offering:
Concept Development
Feasibility Studies
Custom Hardware, PCB, & Firmware design
Reverse Engineering
Fast development cycle, quick time to market
Rapid, low cost prototyping, including enclosures
Manufacturing Liaison
---
Always at the leading edge of technology
Quick Time-to-Market Product Development using Advanced Technology. If you have a design project that you are looking to out-source we would like to have the opportunity to meet with you and discuss your requirements. PDC is a full-service design firm, providing expertise in all phases of product development. We work with your team to develop, manufacture and support your product. Our custom designs are cost-effective, provide an accommodating upgrade path and a reliable product that is easy to manufacture and maintain.
---
Engineering does not have to be complicated and expensive
.... email us today!
---
Total design service, from specifications to production -
Including feasibility studies, electronic hardware, software and mechanical design,
PCB layout, test, product engineering, and manufacturing.
Experienced team of skilled engineers -
We have many years of solid engineering experience with analog,
digital, microprocessor, PC Layout, and mechanical design
Microprocessor design -
Ranging from simple controllers to large, multi-processor systems
Vast experience with single-chip microcontrollers -
Covering the whole range from simple 4-bit, to powerful 8-bit and 16 bit designs.

---
The for all your Electronic Consulting needs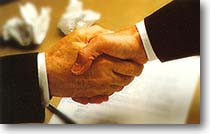 ---
Applications:
Video Processing
Signal/Data Processing
Telecommunications
Data Acquisition Systems
Control Systems
Communications
Remote Applications
Consumer Products
---
We can provide any or all of the following for your products:
Product Development
Schematic Drafting
Printed Circuit Board Layout
Prototype Fabrication
Product Testing
---
If you need design work and need an experienced sub-contractor.
---

Send E-mail to: Info@PDCweb.com
---
P. D. C. LLC - Prime Design Consulting
P.O. Box 439, Ledgewood, NJ 07852 USA
Phone: 862-219-6867 Fax: 862-219-6875
---
[Home]
[Services]
[Consulting]
[Employment]
[Email]
---
Copyright © 1998-2007 P.D.C. LLC Prime Design Consulting All Rights Reserved